I had the lead in the Senior play, "Seventeenth Summer," one of those plays written specifically for high schools.
I got to kiss the female lead. Her boyfriend played football with me, and he was jealous, a big bruiser type, too. But it was in the script. I HAD to kiss her.
They're married now. Clara Dean Russell & Wayne Finley (sweetest couple you'd ever want to meet). I'll be seeing them at the high school reunion in June.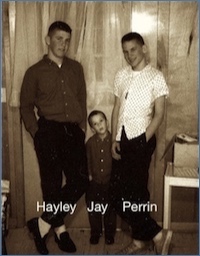 My first big buddy was Haley Barbour. We were pretty much inseparable all the way through grade school.
My first girlfriend was Carolyn Faye Martin, a blonde bombshell in the 6th grade. I was also pretty close to Bill Atkinson and later with Bink Williams. Bink and Judy Waaser and I formed a folk singing group in high school.
My steady girlfriend in high school was Beth Bagwell. She was a cheerleader and a femme fatale. She and Suzy Nicholas used to double date with Bink and me.
Oh my, those were the days.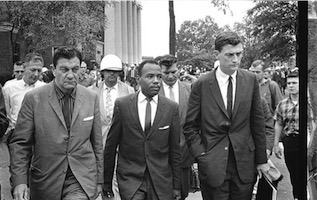 There was a filling station across the street my father's store. The station had four bathrooms labeled White Men, White Ladies, Colored Men, and Colored Women because back then you didn't say Colored Ladies.
I was a Senior in high school in 1965. We had segregated schools. Right after I graduated, race riots broke out in Mississippi. I believe the two incidents were unrelated.
The schools were integrated by the time my little brother started high school.
Ole Miss was integrated two years before I got there. It was a big deal at the time, with the National Guard called in to assist with integration.
My father's first business was a Ford tractor dealership. When I was in junior high, he sold the business and bought McGraw's Drugstore in downtown Yazoo City. He sold sundries and over-the-counter drugs. I was the soda jerk when he first opened the business. I was 12, 13. I wore a white apron. I loved the place. Hated being a soda jerk.
I loved the people there though, mostly farmers and poor people, black and white. The salt of the earth, my mother would say. Lilly, the cook, made the best pancakes I have ever eaten. Smokey Joe Alias, one of my favorites, sold bootleg whiskey from all the pockets of his sports jacket. It was a great place with wonderful people. I have many fond memories. My father changed the name to Broadway Drugstore because it was on Broadway. Which made sense to me.
Next to us was Hassin's Menswear, owned by Kaleal Hassin. His twin children, Diane and Charles, were my age. Still are. Their younger brother, Danny, took over the store years later. I hope he's still there. It was a great place, too.
Here's some rare footage of me, working:
I don't remember my first kiss. I remember my first electric kiss, my passionate kiss, with my girlfriend Beth Bagwell. It was definitely not my first kiss, not even our first kiss. We had kissed before. But this particular one made me see stars.
We double dated with Bink Williams and Susie Nichols all the time. I'd say we were juniors in high school except for Beth, who was a sophomore. They were best friends, both cheerleaders.
High school was a pretty good time for me, even though my parents went through the divorce. Divorces were pretty rare. Basically, I had a great time in high school.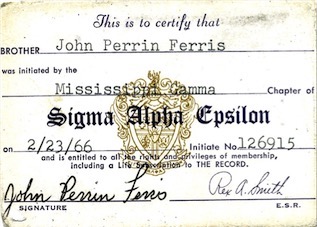 I attended the University of Mississippi, Ole Miss in Oxford, MS, and joined the Sigma Alpha Epsilon frat. Lived in a dorm the first year, frat house the second, and an apartment after that.
College was a pretty big social occasion, all about social stuff. I always thought school was pretty easy and made fairly good grades for not working too hard. I had a hard time with women in college. I'd broken up with a girlfriend and had a bitter taste in my mouth about that, so I didn't get close to many girls while I was in college.
I thought I'd be an English major. I was sort of interested in becoming a lawyer but changed my mind early on. I thought maybe I'd be an English teacher. And then I became interested in theater my junior year of college, and that's all I wanted to do. I totally fell in love with it.
I didn't go to my college graduation. Because I was interested in theater, I ended up going to Detroit for some big theater conference. Then I went directly into graduate school at Ole Miss. I spent a year there, and then I quit. I got a job doing popular historical drama in Oklahoma, stayed there the summer, then moved to New Orleans in 1970.